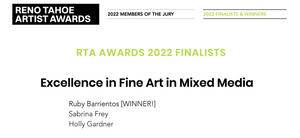 RTA AWARDS 2022 - Winner in Fine Art in Mixed Media
The Reno Tahoe International Art Show, which ran for the first time September 8-11, 2022 also hosted their inaugural Reno Tahoe Artist (RTA) Awards, where I had the honor and opportunity to be a finalist in their Excellence in Fine Art in Mixed Media category. 
The winners of each category were announced at the RTA Awards. I'm very grateful to share that I won the category.  
Thank you to RTIAS for these events, and to the Jury of the RTA Awards for having chosen me as their winner. 
You can find more information on the RTIAS at https://www.rtiashow.com/
---