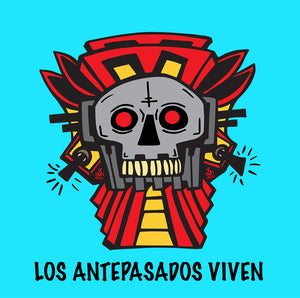 LOS ANTEPASADOS VIVEN
Ancestors are always with us. Death is not an end but rather a gateway to the realm that is the afterlife.
After experiencing the Dia de los Muertos celebration in Oakland, I felt inspired to create a drawing that captured my sentiments on the celebration and tradition. 
The skull is reminiscent of a skull mask I saw an Azteca dancer wear while they danced in ceremony in celebration of Dia de los Muertos. I remember feeling gravitated to this dancer's beautiful traditional attire, but I could not stop gazing at their mask. 
The mask stood out to me perhaps because it was a reminder of my experience with death, which has been an important aspect in my life. At the age of 10 years old my father passed and since then I've been curious about death, the afterlife, and the realms that exist which we cannot see. 
Exploring my spirituality, my roots, and connection to my ancestors has given me the space to grow closer to death without the fear I had as a child. 
This piece symbolizes my connection to death and is an ode to my ancestors who I know are still with me today, even though I cannot see them I speak to them and feel their love, protection, and presence with me.  
---